Overview
Competitions
Japan Barista Championship (JBC)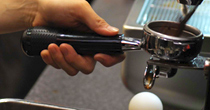 A Competitor serves 3 different espresso-based beverages within the defined time limit. In addition to sensory evaluation, adequacy, accuracy, and consistency in the whole process through serving will be judged.
Japan Siphonist Championship (JSC)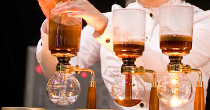 A Competitor serves 2 different blended coffees using "Siphon" brewer, which has a long history and culture as a coffee brewer in Japan.
Japan Latte Art Championship (JLAC)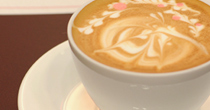 The first Latte Art competition took place in 2006 within the SCAJ show. In 2008, it officially became the Japan Latte Art Championship. In JLAC, visual attributes, service and cleanness as a professional will be judged.
Japan Cup Tasters Championship (JCTC)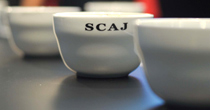 One out of 3 cups is a different coffee from the other 2 identical coffees. Competitors identify the different coffee using cupping skills as quickly as they can
World Siphonist Championship (WSC)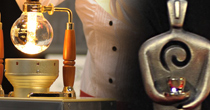 The World Siphonist Championship is a world competition of JSC. It started in 2009 and the number of participants has been increasing. WSC seeks more expansion of siphon coffee and more a internationalized competition.
Japan Coffee In Good Spirits Championship(JCIGSC)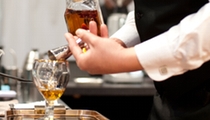 It is a competition that will be the first time in Japan 2013 to compete for coffee cocktail, coffee and alcohol.
Competitors provide two glasses of Irish coffee and two glasses of designers drink to the judges and they evaluate the smoothness of its performance, as well as the taste and the look of those drinks.
Japan Coffee Roasting Championship(JCRC)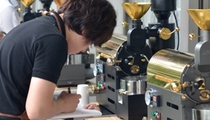 It is a new program of WCE (World Coffee Events).
Competitors need to describe the beans they are going to roast in advance and the judges evaluate in terms of the roasting technique if they can finish the beans same as they declare.
Japan Brewers Cup
(JBrC)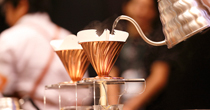 In Brewers Cup, competitors can choose their brewing devices by themselves, however those have to be manual and may not include or involve mechanical action powered by supplemental forces (i.e., electricity). The competition consists of 2 services, the Compulsory Service and the Open Service.
SCAJ Show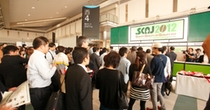 The SCAJ Show is the place where the coffee industry exchanges information about Specialty Coffee, coffee machines and coffee-related equipment and ingredients.
Go to SCAJ Exhibition Official Website
Coffee Meister
Since 1999, SCAJ has offered the Coffee Meister Training Course, an educational program to train professional salespeople in the coffee market and the first of its kind in Japan. After finishing the course including passing an exam, participants will be given a certificate.
CQI Certified Q Grader Course
Licensed Q Graders are those who are certified by CQI (Coffee Quality Institute) or both CQI and SCAA (Specialty Coffee Association of America) to be able to evaluate coffee based on the guidelines and methods set up by SCAA.
In order to hold the certification, Q Graders need to take a Calibration Test every 3 years to renew it.
Seminars & Workshops
SCAJ holds seminars to promote greater understanding of Specialty Coffee through tastings and presentations by coffee-producing countries and provide instruction in evaluation by means of cupping based on engagement with Specialty Coffee and cupping form, as well as barista workshops and short courses to improve extraction techniques. SCAJ members enjoy special pricing.
Buy DVD
World Siphonist Championship DVDs (2011[sold out], 2012[sold out], 2013[sold out])
Japan Barista Championship DVDs (2011, 2012[sold out], 2013[sold out])
Write us, info@scaj.org if you want to purchase DVD.