Message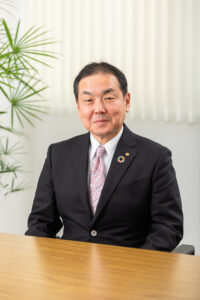 Greeting from the President
I, Shuji Akimoto, am very honored to have been elected of the Specialty Coffee Association of Japan (SCAJ). It will be the 8th chairman, taking over from the immediate past chairman, Mr. Kanno. The number of memberships of our association has continued to increase steadily, and as of the end of last year, the total number of members, includ-
ing domestic and overseas, individuals and corporations, has reached 1,850 memberships. The association will celebrate its 20th anniversary next year, which is a proof that specialty coffee and
the culture of enjoying it are steadily taking root in Japanese consumers, and we are enthusiastic about the support of our members and the efforts of the people concerned. The world has changed drastically with COVID-19. The coffee industry is also worried about the long-term stable supply of raw coffee beans due to climate change.
In addition to rising raw material prices, soaring crude oil prices have also significantly increased transportation costs. Furthermore, in the Japanese coffee industry, which is generally slumped due to the weak yen, it is difficult to pass it on to retail prices, so it is necessary to procure cheap raw materials, resulting in a relative deterioration in quality.
I am worried that I may be heading. How should our association work in such a chaotic situation where the future is uncertain?
It is because of this time that I can re-engage the definition of specialty coffee that we define, "coffee that consumers evaluate
and be satisfied with," and dig deeper into this definition. , We would like to aim for activities that return to our starting point.
I would like to give top priority to further popularizing and improving the level of "Cupping," which is a common foundation for discussing "delicious coffee." Through this, I would like everyone involved in the specialty coffee industry in Japan to further
improve their ability to purchase raw beans at an appropriate price according to their quality.
In addition, as a person who plays a part in the coffee industry, which has a great relationship with the global environment,
we will focus on activities that are conscious of SDGs. As you know, specialty coffee producers in particular have been working on environmental protection and child labor bans from early on, and we, who should be good partners for such producers, would like
to start where we can. When I look at the activities of this association, I feel that the promotion and success of women is not always sufficient, so I will start from this.
We will make more active use of web remote systems and online meetings so that members in remote areas can participate in the activities, and we will increase opportunities for information dissemination and mutual exchange.
This year, depending on the trends in COVID-19 and the world situation, we are preparing to carry out full-spec activities as before, and we hope to provide opportunities for face-to-face exchange as much as possible. increase.
We believe that the developmental continuation of various activities of our association will lead to the encounter with specialty coffee and increase the number of people who participate in our community, which will lead to the further prosperity of the specialty coffee industry.
I will do my best. Currently, preparations are underway to hold the exhibition "SCAJ World Specialty Coffee Conference and Exhibition 2022", which is the largest annual event of the association, in this coming October. The world situation is unpredictable, but this year we plan to do it on a scale and content before COVID-19, including participation from producing countries, with the theme of "Come Join the Specialty Coffee Community". We hope that many of you will participate and visit us.
Finally, I would like to ask again all of our members for their continued support and cooperation in the activities of this association.
Shuji Akimoto
President
Specialty Coffee Association of Japan