投稿日

2020年03月25日

ニュース分類
Update!【緊急】 2020 Re:co Symposium および Specialty Coffee Expo延期のお知らせ
先般、ご報告のようにMICE2020延期(11月3日~6日)がSCAより発表されましたが、3月25日にあらたに4月開催予定であったSpecialty Coffee EXPO2020 Portlandの開催が2021年に開催延期となる運びとなりましたことをご連絡いたします。

開催場所:
New Orleans, United States
延期日程:
Re:co Symposium: 2021年4月21日~22日
Specialty Coffee Expo: 2021年4月23日~25日
SCAの下記の発表をご参照ください。
以下原文です。*画像をクリックするとSCAサイトに遷移します。
———————————————–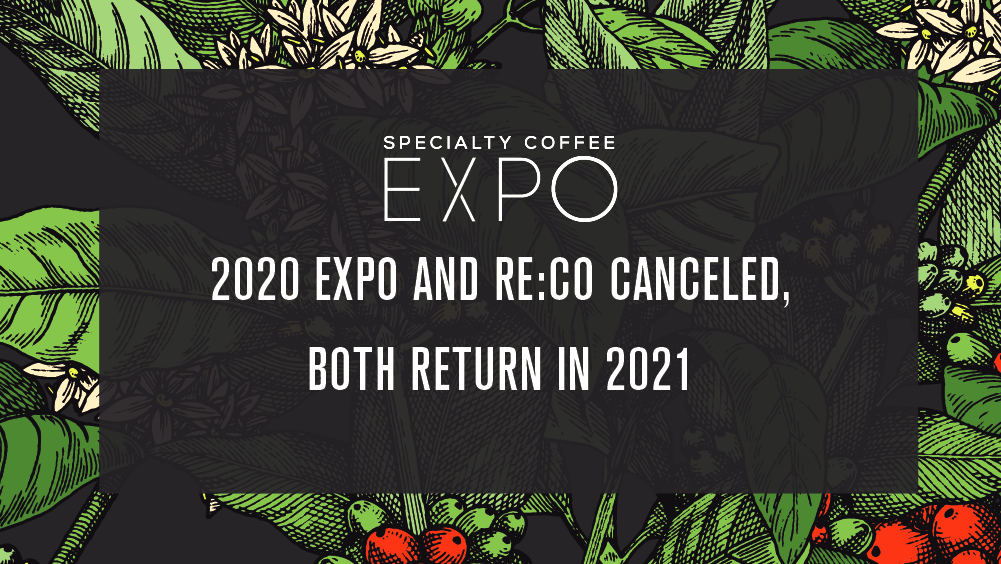 2020 Expo and Re:co Canceled, Both Return in 2021
I am contacting you today because you are registered as an attendee for the 2020 Re:co Symposium or Specialty Coffee Expo.
After many weeks of discussions with our partners regarding the impacts of COVID-19 on SCA events, today we are sad to announce that the 2020 Re:co Symposium and Specialty Coffee Expo scheduled to take place in Portland in April is now canceled.
Unfortunately, no other viable dates were available for the show to take place in Portland in 2020. We will be working with the SCA USA Chapter to explore options to hold the final US Coffee Championships of the year at a later date as appropriate. Re:co and Expo will return in April 2021 in the city of New Orleans, Louisiana. Please find some important information below for exhibitors and attendees.
Next steps on registration fees:
If you have registered for Re:co or Expo, we will automatically credit your registration to Re:co or Expo New Orleans, taking place April 2021 (see the events listing below).
If you cannot attend Expo 2021 in New Orleans, please get in touch with us via email at 2020reg@sca.coffee and we will issue a refund for the fees you paid for Expo 2020.
Next steps on hotel reservations:
If you've already booked your hotel for Portland through the SCA's hotel reservations portal, your hotel reservation has been automatically canceled, and you'll be getting a Reservation Cancellation Acknowledgement via email in the next two weeks. For questions, email scahousing@paravion-inc.com.
2021 Dates:
Re:co Symposium: April 21-22, 2021
Specialty Coffee Expo: April 23-25, 2021
I would like to send a heartfelt thank you to every single one of our sponsors, exhibitors, attendees, and volunteers for your patience and understanding over the past few weeks while we negotiated the future of these two events with our partners.
Many of you have gotten in touch with us, wondering why it has taken so long to announce the cancellation of these two events. As you may know, the Specialty Coffee Expo is the largest specialty coffee event in North America, and in order to make it happen, we engage in contracts with the venue and with over two dozen other partners, including hotels and other local businesses.
When it became clear that it would not be possible to find new dates for later in the year in Portland, our negotiations with these partners focused on ending these contracts without putting the SCA, a nonprofit association, in danger of legal retribution from these businesses, who are also experiencing similar difficulties amid this crisis.
We are heartbroken that we will not be able to see you in Portland this year, but we look forward to seeing you in New Orleans in 2021.
Stay safe and please remember to take a look at the various resources we have been compiling related to the impact of COVID-19 on the coffee industry by visiting sca.coffee/covid19.
Thank you,
Yannis Apostolopoulos
Chief Executive Officer
Specialty Coffee Association

ニュース分類

イベント分類